Since joining social media back in April to celebrate #NatStatWeek, or National Stationery Week as those of us un-savvy with hashtags would say, we've begun to consider the best ways to bring our products to you digitally. Well, here we are, welcome to Product of the Week, also known as POTW.
This week, we're focusing on our Classmaster Colouring Pencils, and we want to share with you why we think they're pretty special…
Our Classmaster Colouring Pencils come in a variety of pack sizes
Need to top up a pencil case? Buy a pack of 12!
Need to stock up the whole school? We have super bulk boxes of 500, and up to 36 different colours available!

Just a selection of the 36 colours available includes:
Carmine
Dark Brown 'Van Dyke'
Light Brown, Blue and Green
Violet
Prussian Blue
And all the standard colours you would expect in your colouring pencil box.
Every pack of Classmaster Pencils comes pre-sharpened
We know that teachers already have a heavy workload and sharpening 500 pencils isn't what anyone wants to spend their Saturday doing, so we've got it covered.
The biggest packs (144, 288 and 500 pencils) come in handy dispenser boxes
Keeping a classroom tidy isn't as easy as it sounds, and we get that. That's why the biggest packs of Classmaster pencils come in handy dispenser boxes, with the 288 and 500 pencils coming separated by colours, too!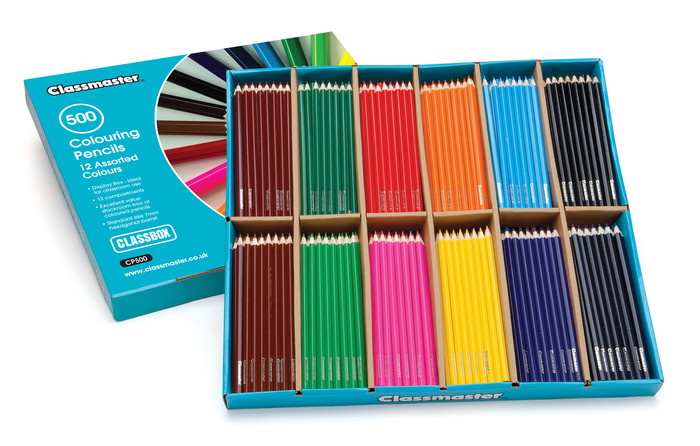 Classmaster Colouring Pencils are ideal for every kind of school
They're budget-friendly, reliable in quality, and excitingly colourful – you can't really go wrong!
You can view the whole range of Classmaster Colouring Pencils on our website here, or if you're lucky enough to have a copy of our brand new 2018-2019 catalogue, you'll find them on pages 9-11.
Hint: If you haven't received a copy yet, you can view the digital version here. 
If you're interested in stocking Classmaster Colouring Pencils for yourself, just get in touch with us at info@eastpointglobal.com or call us on 01502 525555.
Want to keep up with our Product of the Week recommendations?
Come and join us on social!
Twitter: @eastpointglobal
Facebook: @eastpointglobal
Instagram: @eastpointglobal