Selling to schools means you need a lot of knowledge. You need to understand the basics of sales techniques. Knowledge of the pricing, the products and educational funding is essential. Above all, you should have a strong understanding of what the people buying are thinking. What is their biggest problem now? What products and resources do they need to make their lives easier? Are there bigger concerns facing their school or academy?
Following Educational News is essential.
Understanding your buyer and being able to meet them where they are makes the sales process easier for everyone
. At Eastpoint, we make sure to keep an eye on the current news.
Good and bad news allows us to make sure our products meet the needs of schools, students and teachers up and down the country
. To help you do the same, we've compiled five of our favourite websites to keep up to date with Educational news. You can always keep an eye on our blog, and on the blogs of our brands, too. 
The TES is both a print magazine and an online news service. It defines its news section as 'minute-by-minute education news, views and analysis for teachers and school leaders'.
Alongside offering job information, learning resources and training opportunities, the TES website supplies breaking news, breaking views, and all kinds of useful information about what's going on in education.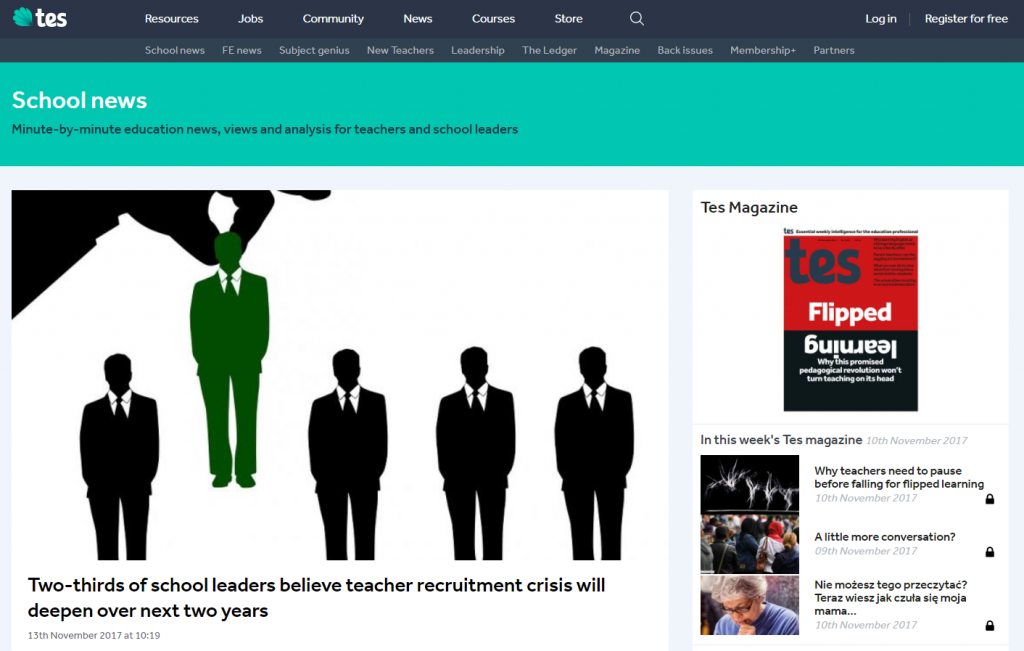 Teachers and Educators up and down the country voted Teacher Toolkit as the Highly Commended UK Education Blog in April 2017. It also ranked as one of the Top 50 #EdTech Brands in Education Worldwide in 2016. It's hard to say Teacher Toolkit isn't exactly what it says on the tin. It's a toolkit for every teacher and educational professional.
Founded in 2010, Teacher Toolkit provides ready-to-use resources, support for edtech start-ups, and consistent, high-quality informative content. Blog content varies from teacher workload, teacher mental health, to lesson planning tips and tricks. Content comes from not only the full-time workers at TeacherToolkit, but teachers, headteachers and directors of academies, too.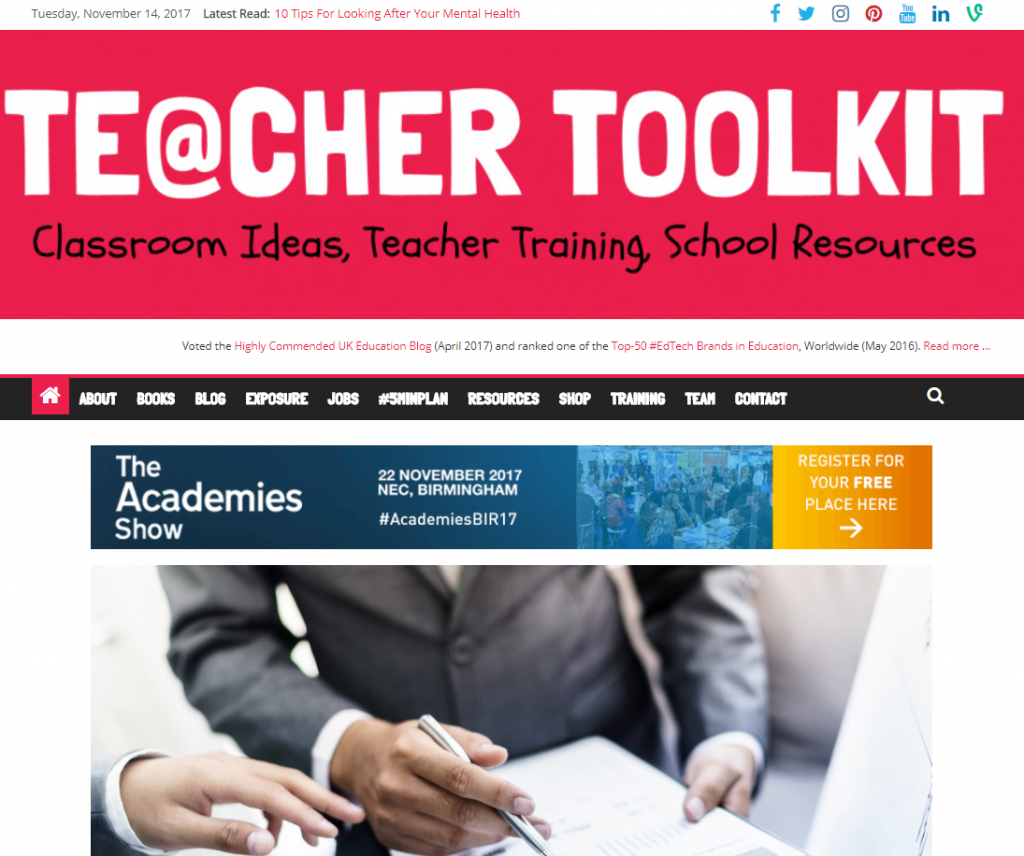 UKEdChat did not start as a website. In fact, it started as Thursday night discussion on twitter using the hashtag #ukedchat. Teachers and educational professionals would come together to discuss events, training and opportunities through the social networking service, but UKEdChat has grown even bigger.
The weekly discussions continue, but UKEdChat now has a careers promotion service, a print magazine with a monthly readership of over 20,000 unique readers, and now a website full of newsletters, resources, careers and more.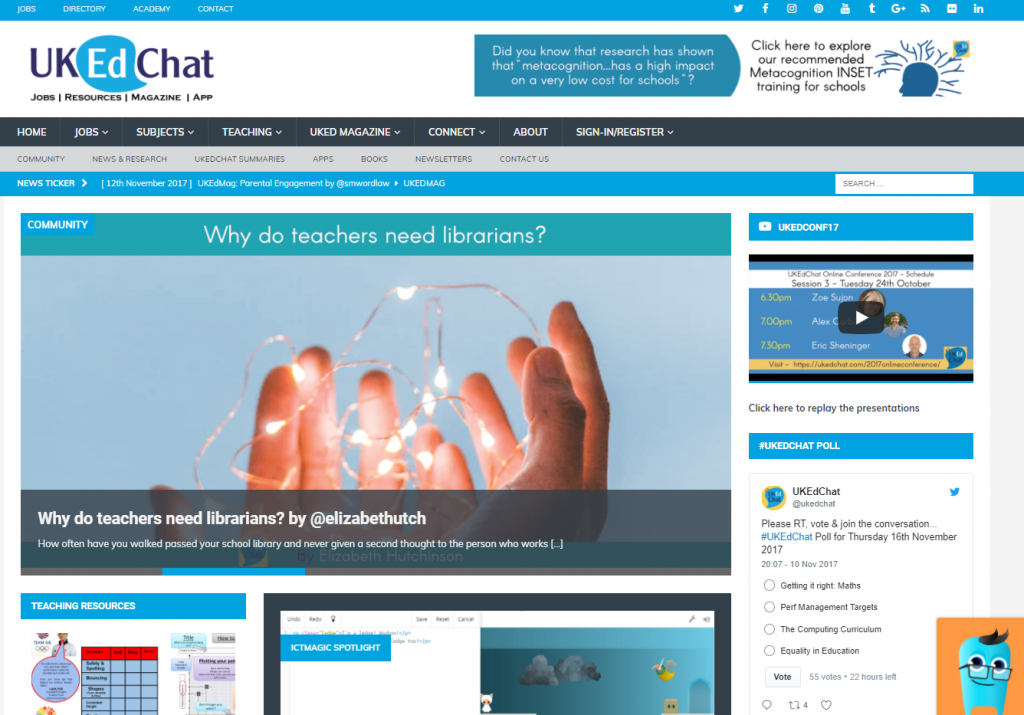 Edutopia differs from some of the other website and blogs from this list. Not because it doesn't supply Educational news, but it is American. Edutopia is part of The George Lucas Educational Foundation – a nonprofit foundation founded by filmmaker George Lucas in 1991.
It is a comprehensive website and community that shares educational strategies, learning tips and ideas for technology integration. While most the content is based on American educational systems, many of the themes are the same. They look at special educational needs and disabilities (SEND), technology and the issues around high rates of teacher turnover. The content they provide is useful for keeping up to date on these topics, but also for gaining a wider view of Education around the world.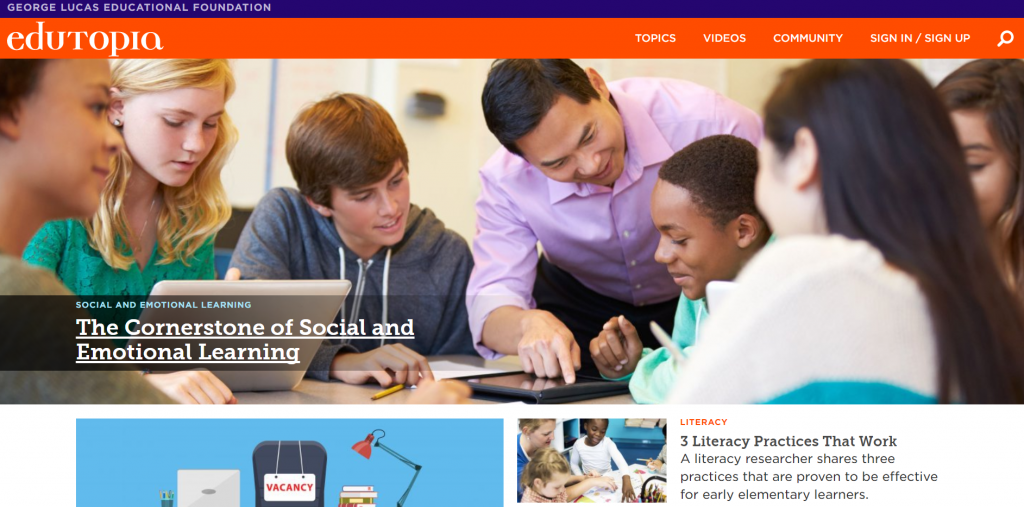 Hear us out here – Twitter is a great source of Educational news. It may be a social media platform that's often full of memes, strange trending topics and political debates, but it also holds a community of educators who are passionate about sharing their experiences and opinions.
It takes quick search on the website to find the educational community. Schools and teachers love the platform and use it to share all kinds of information. Even the Department for Education keeps their Twitter presence active all year round.